Cordless Drill Battery Online Store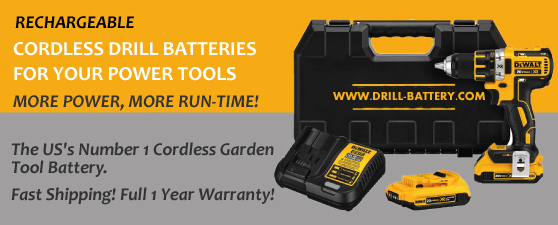 Power tools save us an enormous amount of time and effort whether we are working on a small household chore or a large industrial project so it's very critical to make sure your drill batteries are in good working condition. At Drill Battery Store, we provide replacement cordless power tool batteries made with the highest quality parts in the industry at a fraction of the OEM cost. Most of our replacement tool batteries are even made with the same cells as the OEM manufacturers. We offer NiCD, NiMH, and Li-Ion cordless drill batteries for name brand tools such as Dewalt, Makita, Bosch, Milwaukee, Black and Decker, Craftsman, Paslode, Dyson, and many others. All of these power tool batteries are covered by our 60 Day Satisfaction Guarantee and full 1 year warranty.
Frequently Asked Questions about Cordless Drill Batteries
How long should I charge my drill battery?
How long you charge your power tool battery depends on many factors such as how discharged the battery is. Typically an overnight charge is sufficient to charge a battery, but in some cases it can take longer. Often, most chargers have an indicator light telling you when your battery is fully charged and ready to be used.
Can I use a NiCD or NiMH battery?
If your tool currently has a NiCD battery, you can upgrade to a NiMH battery as long as your charger will accept a NiMH battery. The same goes for if you have a NiMH battery and want to switch to a NiCD battery. One of the biggest differences between these two rechargeable chemistry's is that NiMH batteries generally have a larger capacity.
How do I properly dispose of my old battery?
You can usually take your batteries to a local battery store or scrap yard to be properly disposed of.